What you need to knowShort Term Health Insurance:
Short-term plans can now last as long as 364 days
You can apply for short-term health insurance throughout the year
Short-term plans have limited coverage and benefits
Pre-existing conditions are generally not covered
OUR TOP PICKS: SHORT TERM HEALTH INSURANCE REVIEWS
The annual period known as open enrollment, when you can sign up for health insurance plans that fall under the Affordable Care Act (ACA), is just around the corner. In fact, the 2020 open enrollment period runs from Friday, November 1 to Sunday, December 15, 2019.
But there's another choice, known as short-term limited duration health insurance (STLD), that offers some consumers an affordable, temporary, limited health coverage option.
Short-term health plans are a temporary option that can provide a certain set of consumers with affordable, albeit limited, coverage while they find a more comprehensive plan. But be cautious; these short-term health plans don't comply with the ACA's coverage mandates.
Short-term plans generally do not cover pre-existing conditions and often exclude or severely limit the minimum essential benefits that ACA-compliant plans are required to provide. Maternity care, preventive care, mental health, prescription drugs, and substance use treatment are often not covered short-term health plans. STLD plans can also impose lifetime and annual dollar limits for certain medical services and raise premium prices based on pre-existing conditions. As a result, they are not recognized as comprehensive traditional health insurance according to federal standards.
Unlike the ACA, which has a specific enrollment period, you can sign up for a short-term plan throughout the year. Recent federal regulations allow plans to be sold with terms of up to 364 days, with option to renew for 36 months. When comparing prices with regular health insurance, you could be saving more than $100 per month on insurance compared to marketplace options – but there's a catch.
While premiums may be lower, short-term regulations are so lax in some states that their significant limitations could put consumers at serious financial and medical risk.
Things to watch out for include:
Dollar limits for covered services
Coverage renewal not guaranteed
Pre-existing conditions excluded
Health history may be used to deny coverage or raise premiums
Essential benefits required for ACA-compliant policies are not met
While it's true that you may save money choosing a short-term health insurance plan, you could end up having more out-of-pocket expenses in the long run.
Disclosure
After discussion with various experts and evaluating multiple concerns of organizations such as the American Medical Association, the National Alliance for Mental Illness, the American Academy of Pediatrics, and others, we at ConsumersAdvocate.org advise caution when purchasing short-term limited duration health insurance plans. While it's up to you to determine if a short-term insurance policy meets your needs, it's important to understand what you are purchasing before you make a decision. If you're looking for a comprehensive health plan, this is not the option for you.
Short-term health insurance is not required to comply with certain federal market requirements for health insurance, mainly those mandated the Affordable Care Act. We recommend that you check your policy carefully and be aware of any exclusions or limitations regarding coverage of pre-existing conditions or health benefits (such as emergency services, mental health care, maternity care, prescription drug, hospitalization, emergency care, and substance abuse disorder services).
You should be aware that the health insurance companies we recommend are currently under investigation the House Committee on Energy & Commerce. As part of the probe, the Committee is evaluating whether the business model, regulation, and/or bad faith practices of STLD providers could put consumers at financial and medical risk. The investigation Congress does not necessarily mean that these companies have done anything criminal or unethical. Rather, the key issue before the Committee is whether new federal laws and oversight are needed.
We found the companies discussed below to be the best among the companies we vetted for their policy clarity and their user-friendly platforms.
GOLDEN RULE INSURANCE COMPANY REVIEW
Best for Flexible Policy Length Options
United Healthcare's short-term insurance plans are underwritten Golden Rule Insurance Company, a United Healthcare Company, which has been offering short-term insurance for over 30 years. We liked them for their seemingly low premiums, longer term, and self-renewable plan options. However, there are a few particulars to consider.
In order to apply to a short-term health plan with United, you must first become a member of the Federation of American Consumers and Travelers (FACT), a consumer organization that serves to provide you with consumer security and savings. Membership is open to everyone, but costs $48 per year.
Screenshot of uhc.com 10/22/2019
FACT is a partner of Golden Rule Insurance Company, and includes 20 different benefits that include savings on travel, limited scholarship opportunities, and coverage. At first glance these added benefits may seem great, but most of the features provided the FACT membership are ones that you aren't likely to use such as $5,000 on accidental death coverage or pet insurance discounts.
If you are to use FACT memberships, these could save you hundreds of dollars. However, note that the FACT membership alone incurs additional fees. FACT membership dues are billed at the same time as your separate United Healthcare short-term insurance plan.
To get an idea of the costs, a regular short-term plan could be priced at around $99 per month for a policy length of 90 days. Your FACT membership fees would add an additional $4 a month to your payment. This makes the total out-of-pocket costs to maintain that policy 5% higher than the premium quoted United.
Policy Length Options
United offers an unusual three-year policy for people who want coverage for longer than 365 days. TriTerm Medical insurance is designed to offer more benefits than traditional short-term health insurance plans and provides coverage for one day less than three full years.
As federal regulation restricts temporary health insurance to 12-month terms totaling no more than three years of coverage, TriTerm Medical is limited duration insurance that lasts for nearly 36 months over three terms. In other words, selecting TriTerm, you are essentially buying three one-year policies. This option is not available in all states.
TriTerm features includes limited preventive care coverage, office visits for injury or illness, and prescription coverage. Benefits may include health care, rehab, and hospice care which generally aren't included in typical short-term health plans.
Screenshot of uhc.com 10/22/2019
Unlike other short-term plans, with TriTerm you only have to apply once for just under three years of coverage. Your plan will just move into the second or third term when you get there, which may serve as an incentive for those looking for a cheap healthcare coverage option and don't want to deal with the replication process hassle.
However, some aspects of TriTerm aren't exactly consumer-friendly. If you're seeking preventive care, there is a six-month waiting period during the first year of the plan. Eligible costs related to pre-existing conditions won't be covered during the first 12 months. TriTerm Medical plans aren't guaranteed issue either, so the company could deny renewal based on pre-existing conditions that occur during your first year of coverage.
Furthermore, TriTerm Medical plans include only a $200 per person/per term coverage limit for preventive and wellness checks. Preventive care is critical to keeping down future medical costs and preserving your health, but $200 doesn't go very far when it comes to a physical exam and the lab tests and imaging procedures that are often recommended to get a complete picture of your health status.
For prescription medications, TriTerm offers a $5,000 max benefit per person, per term, for outpatient prescriptions. However, this coverage may vary depending on the plan you choose. TriTerm also comes with a "Preferred Price Card," which United claims will allow you to purchase prescriptions at a lower price, but in truth is just a discount prescription card.
United Health promotes the fact that its policyholders have access to nearly 1,300,000 physicians and other health care professionals at more than 6,000 hospitals and medical facilities. But what good will that do when coverage for basic medical care is so limiting? Probably not much.
Be sure to verify your policy terms before purchasing this plan. Short-term health plans aren't considered comprehensive health insurance under federal standards. These plans are only available for people between the ages of 19 and 63, with coverage ending at age 65. Factors such as height, weight, prior applications, and pre-existing conditions will be considered to determine eligibility for the plan.VISIT SITE
AGILE REVIEW
Best for Comparison Pricing
When looking for a short-term health plan, you have to consider a variety of factors including premiums rates, coverage, exclusions, co-pays, deductibles, caps, and provider restrictions among other variables. Unfortunately, many health insurance companies make it difficult to understand exactly what their plans offer.
When looking for temporary coverage, most consumers' number one goal is finding an affordable option. The good news is that STLD plans generally have lower premiums than marketplace options. However, while STLD plans are cheaper than other traditional forms of health insurance, there are other costs to consider such as uninsured medical costs and out-of-pocket expenses.
Screenshot of agilehealthinsurance.com 10/22/2019
We determined that Agile Health Insurance offers the broadest array of premium rates and coverage packages. Agile's easy-to-use website and straightforward breakdown of each short-term policy ultimately makes the company our top choice for the resources that enable consumers to intelligently compare all the variables and features of STLD policies
Agile Highlights
Affordable rates
Broad selection of products
Limited mental health coverage
Quick online application and approval
Agile Health Insurance offers over 5,000 short-term insurance and health benefit indemnity insurance plans. They also offer supplemental health products such as dental insurance, vision insurance, and telemedicine for an additional cost.
According to Agile's database, the most common non-insurance supplemental health product consumers get is telemedicine. This product facilitates 24/7 access to medical providers and insurance advocacy services that help you better utilize your health plan and discount pharmacy benefits.
When you enter your zip code, date of birth, gender and payment preference (monthly or single up-front), Agile generates a number of quotes for plans that are available in your location.
Once you view the available quotes in your area, Agile allows you to select premium and deductible preferences from multiple health insurance policies including Everest, Everest Prime, Aspen, Advant Health, LifeShield, Standard Life, Companion Life, National General, and United Healthcare. Each provider is well-known in the insurance industry and offers large networks of medical providers, which we liked.
The online application takes around five minutes and can be approved in as little as eight minutes, according to Agile. If approved, you can begin accessing some of your benefits as early as the next day.
We advise you to be aware of your policy terms before using your short-term plan, as certain coverage or services could be excluded or have specific waiting periods and limitations. For example, most short-term plans have a five day waiting period for illnesses. Furthermore, pre-existing conditions will not be covered.
Short-term health insurance doesn't comply with Affordable Care Act federal rules, so it doesn't include all of the ten essential health benefits. Be sure to determine whether the policy you're considering includes all the coverage you need; short-term plan aren't for everyone.
Some policies provide mental health and substance use treatment and others don't, so if you think you might need these coverages here are your options.
Provider Breakdown
| | | | |
| --- | --- | --- | --- |
| Short-term plan | Mental Health Coverage | Substance Use Treatment Coverage | Other |
| Aspen | No coverage | No coverage | No essential health benefits |
| Advant Health | No coverage | No coverage | Provides limited therapy services |
| LifeShield | Yes, limited | Yes, limited | No |
| Standard Life Select | Yes, limited | No coverage | No |
| National General | No coverage | No coverage | Has a strong provider network through Aetna |
| Everest Prime | Yes, limited | Yes, limited | Some plans offer a limited pre-allowance of pre-existing conditions |
| United Health One (Medical Plus) | No coverage | No coverage | Must be a member of the Federation of American Consumers to join |
| United Health One (Medical Value) | Yes, limited | Yes, limited | Must be a member of the Federation of American Consumers to join |
| Companion Life | No coverage | No coverage | Offers child-only coverage options, minimum 6-months of age |

Other sites that do a good job at comparing prices and features of short-term health plans are eHealth Insurance and Assurance. eHealth allows you to filter plans monthly premium cost from below $100 to $300 and above. They also include optional additional benefits you can add to your plan such as prescription and pre-existing condition coverage. Some examples of providers eHealth lists are Companion Life, Everest Reinsurance, National General Accident & Health, United Healthcare, and Independence American.
Assurance uses data science and machine learning to speed up the online application process when applying for short-term health insurance. They also serve as a conduit to sell other health, life, Medigap, home, and auto policies from more than 20 providers. By simply entering a few facts about yourself such as household size, sex, and health condition their algorithm will let you know if you are eligible for short-term health plans they carry in your area (United Health, Aspen, and LifeShield). Assurance was recently purchased Prudential and is licensed in most states, the availability of short-term plans depends on state regulation.VISIT SITE

MORE INSIGHT INTO OUR METHODOLOGY
---
PLAN FEATURES
Because short-term health insurance plans aren't as heavily as regulated as policies that are sold through insurance exchanges established the Affordable Care Act, understanding what they feature is crucial. That's why the first thing we consider when looking at a plan's features is its coverage options.
Federal regulation has allowed short-term plans to be exempt from pre-existing condition protections and benefit requirements that conventional health insurance policies must meet. Specifically, they are exempt from federal standards set the Affordable Care Act (ACA) for individual health coverage. In other words, short-term health insurance policies don't have to provide essential health benefits and guaranteed availability without regard to pre-existing conditions.
Regulation also allows short-term plans to use an individual's health status as a rating factor to determine the cost of premiums. By contrast, private health insurance plans are federally prohibited from using a person's health status to vary premium cost. Factors used to determine health status include medical condition (including both physical and mental illnesses), claims experience, receipt of health care, medical history, genetic information, evidence of insurability (including conditions arising out of domestic violence), and disability.
Currently 11 states do not offer short-term insurance plans, while others have placed certain regulations or restrictions regarding these plans. Common state regulations that limit short-term health policies include restricting short-term limited duration plans to a certain number of days (i.e., less than six months). Other states have placed restrictive limits on renewals or total plan duration. Certain states require short-term health policies to meet with the essential health benefits compliant with the ACA mandate; as a result, no insurers sell short-term policies in those states.
Short-Term Health Insurance Regulation State
Short-Term Insurance: Regulation State
State has set a limited amount of days for short-term health insurance
---
Can't purchase short-term health insurance
---
State-regulation is being considered
---
In states with "no limit", state regulations do not specify a duration limit for short term health plans. These states default to the federal standard.
Sources: Health Network and HealthInsurance.org
Short-term plans that include maternity benefits, substance abuse coverage, and other essential health benefits ranked higher with us. We were also impressed plans that include prescription drug coverage.
Under the right circumstances, short term health insurance can be a good fit for millions of families and individuals. That's why we compared plan options across the US to help identify the most comprehensive short-term options.
---
COST
Compared to traditional major medical coverage, short-term plans are relatively affordable and offer lower premiums than Affordable Care Act compliant plans. However, the amount of the deductible, the coinsurance, the co-pay, the dollar limits on coverage, the age and gender of the insured, and other factors have a significant effect on how much they cost.
Still, the old maxim that you get what you pay for applies here. The reason short-term health insurance plans cost less is because they provide skimpier coverage. Some types of coverage (e.g., mental health services, substance abuse treatment, prescription drugs, and others) may be excluded entirely. Other types of coverage may be subject to caps, significant deductibles, and treatment exclusions. And since short-term plans can lawfully exclude coverage for pre-existing conditions, people with chronic health conditions may find that short-term policies don't provide the coverage they need most.
We specifically took a look at what type of coverage you're getting and what you have to pay.
We compared different short-term insurance plans based on a series of factors including application fees, premiums, maximums and deductibles to find out which insurers offer the most competitive prices on policies that provide reasonably solid coverage.
---
CUSTOMER EXPERIENCE & FINANCIAL REPUTATION
We examined the companies' overall customer satisfaction and their financial strength and stability. Customer experience and financial reputation can make all the difference when deciding between two different insurers with very similar short-term health insurance plans. The goal is to sign up with a company that provides responsive customer service and whose finances suggest that they will be able to pay policyholders' claims in all different economic environments.
We first determined whether the company is an underwriter, subsidiary or partner, or marketplace. Then, we look for the company's ratings in the S&P, Moody's, and AM Best. Strong ratings across all three agencies generally paint the picture of a financial strength and stability. Since marketplaces don't sell insurance directly, their financial strength isn't all that relevant. Consumers are, however, strongly advised to do their own research into the insurers recommended any marketplace.
We also review different insurance companies' ratings with the Better Business Bureau and see how they handle customer complaints. From there, we visit Trustpilot, another popular consumer feedback platform. Although we focus on its score there, we also consider the number of reviews that have gone into calculating that score and whether or not the page has been claimed the company. Most importantly, we consult the National Association of Insurance Commissioners (NAIC) database, which allows us to determine how the number of complaints about a given insurance company compares to the national average.
HELPFUL INFORMATION ABOUT SHORT TERM HEALTH INSURANCE
The number of uninsured Americans is on the rise again for the first time in a decade. According to new census data, 27.5 million people had no form of health insurance in 2018. That's nearly 2 million more than the number of uninsured in 2017. Census officials said this marks the first year-to-year increase of uninsured people since 2008-09, when the Affordable Care Act (ACA) was passed.
The reasons for this increase are mostly speculative for now. However, analyses from the Kaiser Family Foundation, the Congressional Budget Office (CBO), the Joint Committee on Taxation (JCT), the Commonwealth Fund, the Urban Institute, and the Center for Children and Families suggested that the increase in the number of uninsured Americans could be due to rising health insurance premiums. Other factors may include:
The U. S. Census Bureau reported the rate of uninsured American was on the rise again
After the Affordable Care Act came into effect, the percentage of uninsured decreased historically. This was due to ACA's efforts to extend Medicaid coverage to many low-income individuals. New census data shows the first significant rise in uninsured population in a decade. Statistics provided the U.S. Census Bureau.
According to the CBO, new federal rules regarding short-term health plans will prompt about 4 million people to drop comprehensive ACA individual or small-group coverage to enroll in short-term plans or association health plans over time.
The US Department of Labor defines association health plans (AHP) as group health plan that employer groups and associations offer to provide less expensive health coverage for employees. AHPs also allow small employers to band together to purchase types of coverage available to larger employers. In contrast to short-term health plans, AHPs can't deny coverage based on health or prior conditions. However, the lower premiums that short-term plans and AHPs offer to healthy people are not necessarily available to individuals with pre-existing conditions. And like short-term health plans, AHPs aren't nearly as robust and comprehensive as ACA plans, which will leave many people with greater out-of-pocket healthcare costs.
The expansion of short-term plans and the use of association plans as a way to get around the requirements of the ACA concern healthcare experts. "The current administration's expansion of short-term plans will leave people who buy these plans with large gaps in coverage and will raise costs for people with pre-existing health conditions," says Aviva Aron-Dine, Vice President for Health Policy at the Center on Budget and Policy Priorities.
Short-term plans are exempt from many of the ACA's consumer protections, including its prohibitions on denying coverage for those with pre-existing conditions or charging higher premiums based on an individual's health status.
By 2029, the CBO anticipates the number of uninsured people in the US will grow to 35 million, or 13% for people under age 65. That estimated growth is due to an increase in the number of people expected to forgo comprehensive health insurance in response to the elimination of the individual mandate penalty. Again, an additional factor is people's increasing enrollment in coverage from sources that do not meet the CBO's and the Joint Committee on Taxation's definition of health insurance, such as short-term plans.
"Moreover, CBO's analysis may not fully account for the widespread use of deceptive marketing practices short-term plan sellers, as documented in a recent Georgetown Center for Health Insurance Reforms report. If these practices are prevalent and successful, more people will likely enroll in even worse health plans than the CBO projects," stated Aron-Dine.
AFFORDABLE CARE ACT VS. SHORT-TERM HEALTH INSURANCE
Before signing up for short-term health insurance, there are a few things to consider. First and foremost, short-term plans aren't considered comprehensive health insurance under federal law, as a result they aren't required to be compliant with Affordable Care Act consumer protections.
This year, the current administration set forth new regulations to expand the availability of short-term health insurance allowing these plans to be offered for up to 364 days and renewed at the discretion of the insurer for up to three years (36 months).
Short-Term Health Insurance Key Takeaways:
Federal rule now allows 364-day plans, with option to renew for up to 36 months
There are 11 states where no short-term plans are available
Enrollment in short-term coverage is likely to increase over the next decade
Short-term plans are aggressively marketed to consumers
Multiple health organizations have filed suit to invalidate the new regulations governing short-term plans that allow them to provide coverage for up to 364 days and to be renewed for up to 36 months.
While the final rule's expansion from three to 12-month policy terms can be seen as a plus for consumers who may have missed the open-enrollment deadline and do not qualify for other healthcare alternatives, light regulation in some states has incentivized some of the less than ethical operators in the business to ramp up their practices, according to a Georgetown University study.
According to faculty at the Center on Health Insurance Reforms at Georgetown University, many people purchase short-term plans mistakenly believing that they are as comprehensive as ACA plans.
"Most of the time, people don't realize what they're getting into when they purchase short-term health insurance plans," said Cheryl Fish-Parcham, Director of Access Initiatives of Families USA. "They are taking major health risks, as these plans don't have to comply with marketplace standards set the Affordable Care Act. What people don't realize is that with a short-term plan, you could end up paying more out-of-pocket expenses."
Fish-Parcham suggested that consumers would be better off purchasing a comprehensive insurance plan or marketplace alternative rather than a short-term health insurance plan.
"People could be exposing themselves to denied coverage or financial risk when choosing short-term plans," said Fish-Parcham. "Even when some short-term policies state they offer mental health coverage, their pre-existing conditions policy terms will be so complex that the person seeking coverage will probably not be eligible. On most occasions they will give you a per-dollar limit on care, for example, $1,000 per-day-limit for hospitalization. It's very important that consumers read the fine print and policy terms thoroughly if they choose this type of plan."
The Kaiser Family Foundation, a nonpartisan research organization, compared short-term insurance plans as a sort of tradeoff to consumers – lower premiums in exchange for more limited coverage and less protection than ACA-compliant plans.


Short-Term Health plans are exempt from Affordable Care Act consumer protections
According to Mental Health America's The State of Mental Health in America 2018 report, one in five adults –that's 40 million Americans, or more than the population of Florida and New York combined– have a mental health condition.

In April 2018, the Kaiser Family Foundation found that on average, 57% of short-term health insurance plans sold on eHealth and Agile Health Insurance websites don't cover mental health, and 38% don't cover treatment for substance abuse. The report was published Families USA.
Currently, 7 million people have both a mental health and substance use condition. Short-term health insurance policies generally do not cover substance use treatment, leaving most of this population vulnerable.

National General, Secure Lite, Everest Prime, Standard Life Select, LifeShield, UnitedHealthOne (Medical Value), UnitedHealthOne (Medical Plus), Companion Life, and Aspen do not cover injuries resulting from intoxication, alcohol or drug use.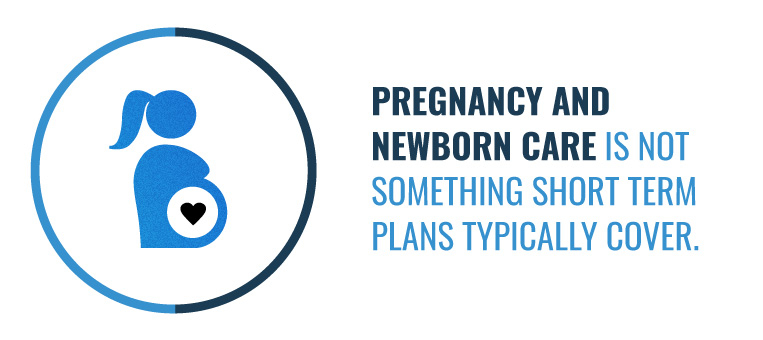 According to NPR, the average age of first-time moms in climbing in the US. By 2016, the common age when women have their first child is 26.3. Short-term health plans may cover complications due to pregnancy, but they are very limited. These policies do not cover abortions.
The National Center for Health Statistics reported that nearly half of the US population over the age of 12 took prescription pain relievers, tranquilizers, sedatives or stimulants. Prescription drug use increased with age, from 18% for children under 12 years to 85% of adults aged 60 and over.

At least 16% of the time those drugs are misused nearly 19 million Americans, according to the Centers for Disease Control and Prevention.

The Kaiser Family Foundation found the following facts on Short-Term Limited Duration plans:


According to Debt.org, the average costs for common surgeries are:

MOST HEALTH ORGANIZATIONS DON'T RECOMMEND SHORT-TERM HEALTH INSURANCE
In 2018, seven health organizations filed a lawsuit to invalidate the short-term, limited-duration plan's final rule. These organizations include The National Partnership for Women & Families, AIDS United, America Psychiatric Association, Mental Health America, National Alliance on Mental Illness, Association for Community Affiliated Plans, and Little Lobists, LLC.
The final rule expands access to short-term, limited duration insurance coverage extending the maximum duration of these plans from three months to up to 12 months. The rule also allows insurers to renew or extend coverage for up to 36 months and requires organizations to update notice requirements.
However, top health organizations believe this new rule puts consumers at risk, as many people could mistakenly believe that short-term limited duration plans could replace comprehensive health coverage.
"This rule will harm patients and their families as well as others in the health care system undermining access to quality, affordable coverage, will significantly disrupt insurance markets in states across the country, and threatens to bring back abusive practices that harm consumers specifically prohibited the Affordable Care Act (ACA)," said the National Alliance on Mental Illness in a statement.
Similarly, other organizations have pushed back against the new regulation including the American Academy of Pediatrics and the American Medical Association (AMA).
"The American Medical Association has raised considerable concern with increasing the duration of short-term limited duration insurance (STLDI) plans beyond three months," said Robert Mills, AMA press representative.
The AMA sent a letter to the Departments of Treasury, Labor, Health & Human Services in April 2018 urging withdraw of its proposed rule to expand the duration of STLD plans. In their letter, they cite short-term limited duration plans are "deficient and destabilizing" and that the new rule will be "devastating to the health of millions of Americans – disproportionately so for women, children and the chronically ill."
As of 2015, 50 to 129 million non-elderly Americans have some type of pre-existing condition, according to the Department of Health and Human Services. At the time, 25 million individuals with pre-existing conditions were uninsured. This year that number will likely spike up as new census data becomes available.
On April 2019, the consumer representatives to the National Association of Insurance Commissioners (NAIC) raised concerns that the proliferation of short-term, limited duration insurance coverage would confuse consumers, leaving some who sign up for short-term plans facing higher out-of-pocket costs, denied claims, and unpaid medical bills, while also leading to adverse selection that harms states' individual marketplace.
According to the NAIC study, most consumers don't understand what short-term health insurance coverage really entails. This lack of understanding combined with concerns about aggressive marketing strategies of short-term plans will likely result in confused consumers unintentionally enrolling in short-term plans when doing so may not be sufficient to cover their health needs or financial situation.
Furthermore, this year the House Committee on Energy and Commerce launched an investigation into companies that sell or broker junk health insurance plans. In their investigation, they are examining aggressive marketing strategies, STLD plans that have discriminated against individuals based on pre-existing conditions, and denied coverage of claims, there putting consumers at financial and medical risk.
Organizations they are looking into include Agile Health Insurance, Anthem, Arkansas Blue, Cross Blue Shield, Blue Cross Idaho, Cambia Health Solutions, eHealth, Everest, Health Insurance Innovations, Healthcare Solutions Team, Independence Holding Company, National General Accident and Health, UnitedHealth Group, LifeShield National Insurance Co., and Pivot Health.
AFFORDABLE ALTERNATIVES TO SHORT-TERM HEALTH INSURANCE
CHIP provides low-cost health coverage to children in families that earn too much to qualify for Medicaid. One of the perks of CHIP is that, like Medicaid, you can apply for it throughout the year to see if you qualify. In some states, CHIP covers pregnant women. Each state has its own rules about who qualifies for CHIP. If you apply for Medicaid coverage to your state agency, you'll also find out if your children qualify for CHIP.
To find coverage for your family visit InsureKidsNow.gov.
Fill out an application through the Health Insurance Marketplace. If anyone in your family qualifies for Medicaid or CHIP, your information will be sent to your state agency and they will contact you for enrollment.
Medicaid is a state-run and federal program that provides health coverage if you have low income. States set their own guidelines and determine the type, amount, duration, and medical services available within federal guidelines. Federal law requires states to provide mandatory benefits and allows states to choose optional benefits.
Medicare is a federal program that provides health coverage for individuals who are 65 years and older or for people under 65 with specific disabilities, no matter their income. You can apply online even if you're not ready to retire. There are two main ways to get your Medicare coverage: Original Medicare or a Medicare Advantage Plan (Part C).
If you are eligible for both Medicare and Medicaid (dual eligible), you can have both. Make sure to call 1-800-MEDICARE or contact your local Medicaid office to learn more about Medicare and Medicaid costs and coverage, as covered services and cost-sharing may vary depending on which plan you have.
---
FAQS ABOUT SHORT TERM HEALTH INSURANCE
---
Is short-term health insurance like a catastrophic health plan?
Short-term, limited duration health plans are not like catastrophic plans. Only people under 30 years-of-age and individuals with a hardship exemption or affordability exemption based inability to afford Marketplace or job-based health insurance are eligible for a catastrophic plan.
With a catastrophic plan monthly premiums are low but deductibles are very high. For 2019, the deductible for all catastrophic plans is $7,900 — that's the amount you have to pay out-of-pocket before your catastrophic plan starts to cover any expenses.
Catastrophic plans cover the same essential health benefits as a marketplace plan and help you cover unexpected medical costs that you otherwise would be unable to pay. These plans are designed to protect you from high out-of-pocket expenses in the scenario of a catastrophic event (illness or injury).
Catastrophic plans cover preventive services such as shots, immunizations, screening tests including cancer/mammography. They cover health screenings for women every one to two years for women over 40. They also offer three primary care wellness visits per year before you've met your deductible. Added benefits include coverage for certain types of birth control and breastfeeding coverage.
Note that the availability of catastrophic plans will depend on your state.
---
Does short-term health insurance cover pre-existing health conditions?
Short-term health insurance plans do not cover pre-existing conditions. They are federally exempt from providing medical coverage for pre-existing health conditions and essential health benefit standards set the Affordable Care Act. As a result, they can also deny coverage or charge higher premium prices to people with pre-existing conditions.
---
Do I still have to pay a tax penalty under the ACA if I have a short-term health insurance plan?
The current administration has eliminated federal tax penalty for individuals that do not have creditable health insurance in 2019. However, those that received a penalty for not having health insurance in 2018 still have to pay the penalty on their 2018 tax forms. Short-term health insurance plans are not considered creditable health insurance under federal law as they do not meet minimum essential health benefit standards set the Affordable Care Act.